You can find the best food tour experience in Bangkok. Thailand and the food are just perfect. It looks the same as the country's various cuisines carrying the stories of the Kingdom's history and people. There is no escaping the tastes and smells throughout the capital city's street stalls, hole-in-the-wall shop houses and even more upmarket fancy establishments.
The first impression might give pause for a second thought. Oftentimes, that's where we find some of the tastiest hidden gems. But when there are so many dishes and ingredients, what to try and how to eat?
Food tours are an excellent introduction to Thai dishes, even for those more familiar with the cuisine. They can be an excellent way of sampling new foods and flavours and seeing a part of Bangkok off the beaten path.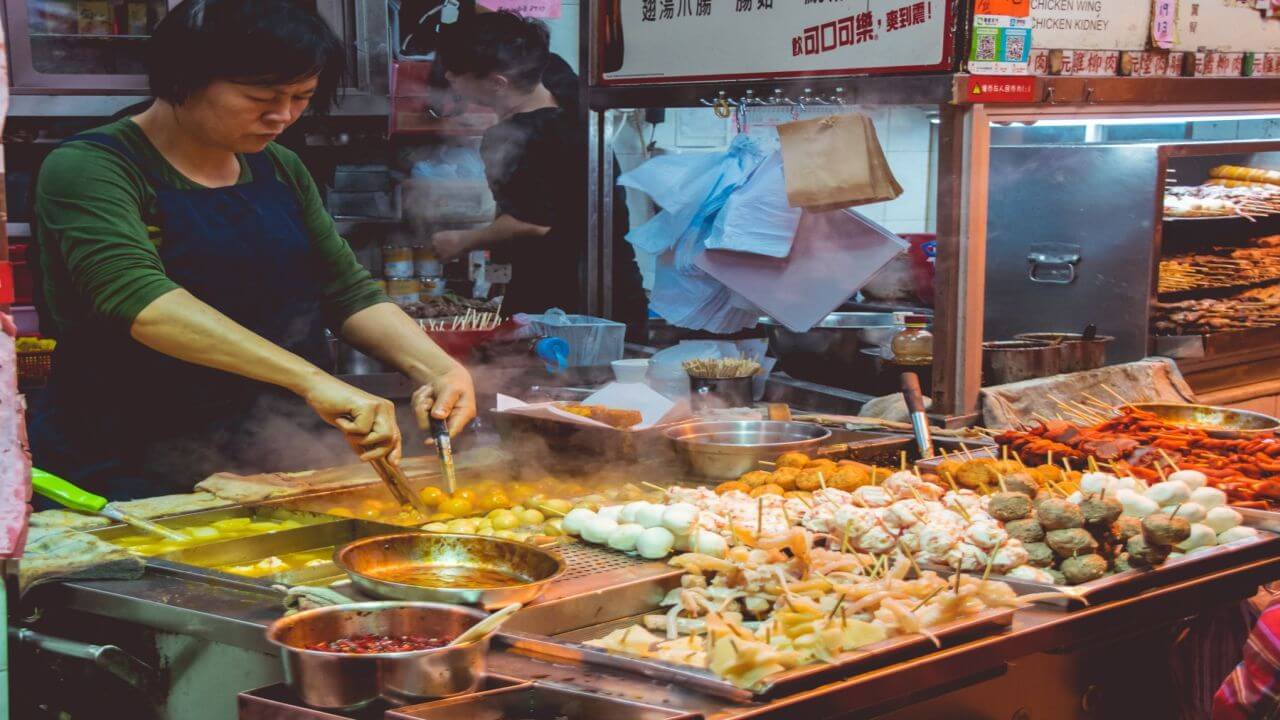 Thailand is fourth on the world map for food tours after London, Paris and New York in 2020,  according to Statista. I always wondered why these cities score better than the Thai food kitchen.
Taste of Thailand Food Tours offers a four-hour food experience by foot in the Bang Rak neighbourhood, otherwise known as the Village of Love. Bang Rak is the historic area of Bangkok surrounding Silom Road. The area is well known to locals for having some of the best food in Bangkok.
Taste of Thailand was recently transitioned into B-Concept Media Entertainment Group, a full-service experience company and continuing the concept out of a belief that everything we eat has a story behind it.
Each food tour experience tells stories to visitors seeking a more intimate way to learn about Thai culture… while eating! This passion sets out a map of culinary gems in the sprawling metropolis of Bangkok and shares our mission with you, dishing up culture, tradition and people behind the savoury treats along the way.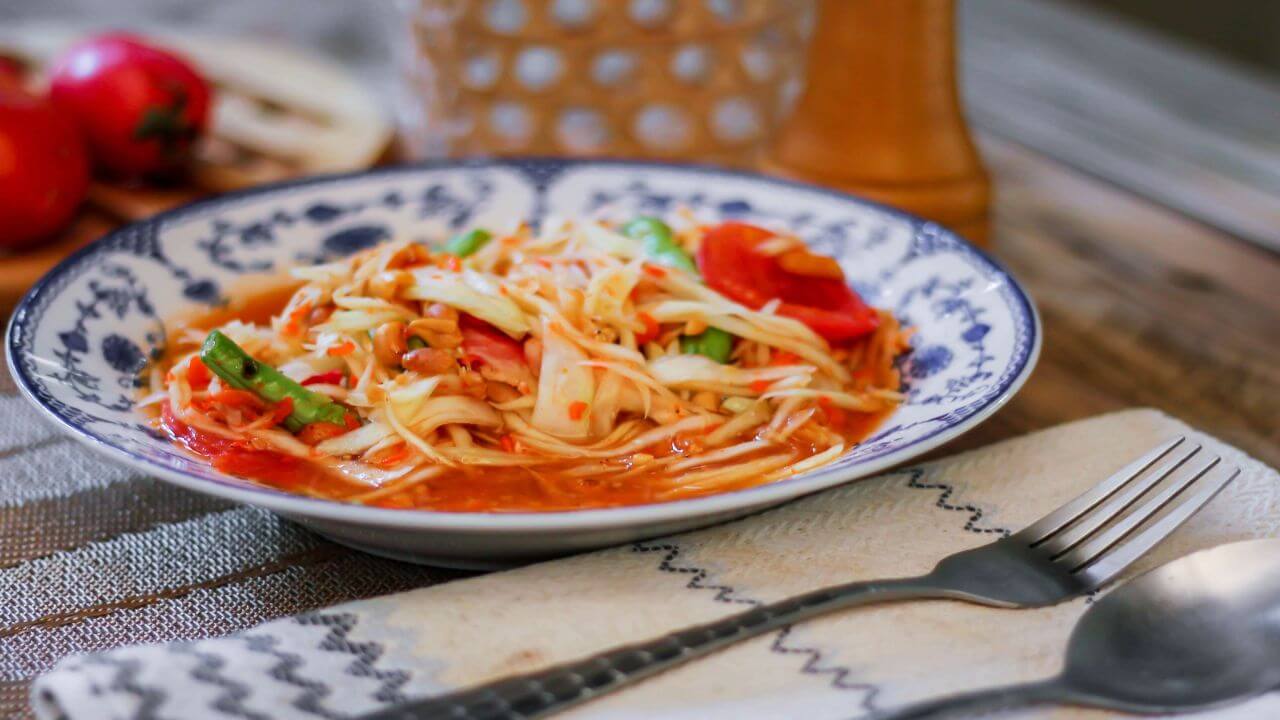 One of the award-winning tours is The Village of Love Tour, which meets participants at 10 am just outside an easily accessible central BTS station. There is only a maximum of 10 on tour, which is the perfect size. That means that people get to know each other better while sharing the same passion. After booking the tour, you get pre-warned to arrive hungry, so keep that in mind as you might be grateful afterwards.
The first stop is a street food curry stall next to the BTS station, where you can pick up two miniature curry puffs. You can choose between vegetables, mushrooms, mung bean, taro, black sesame and coconut. It is an excellent way to start your morning.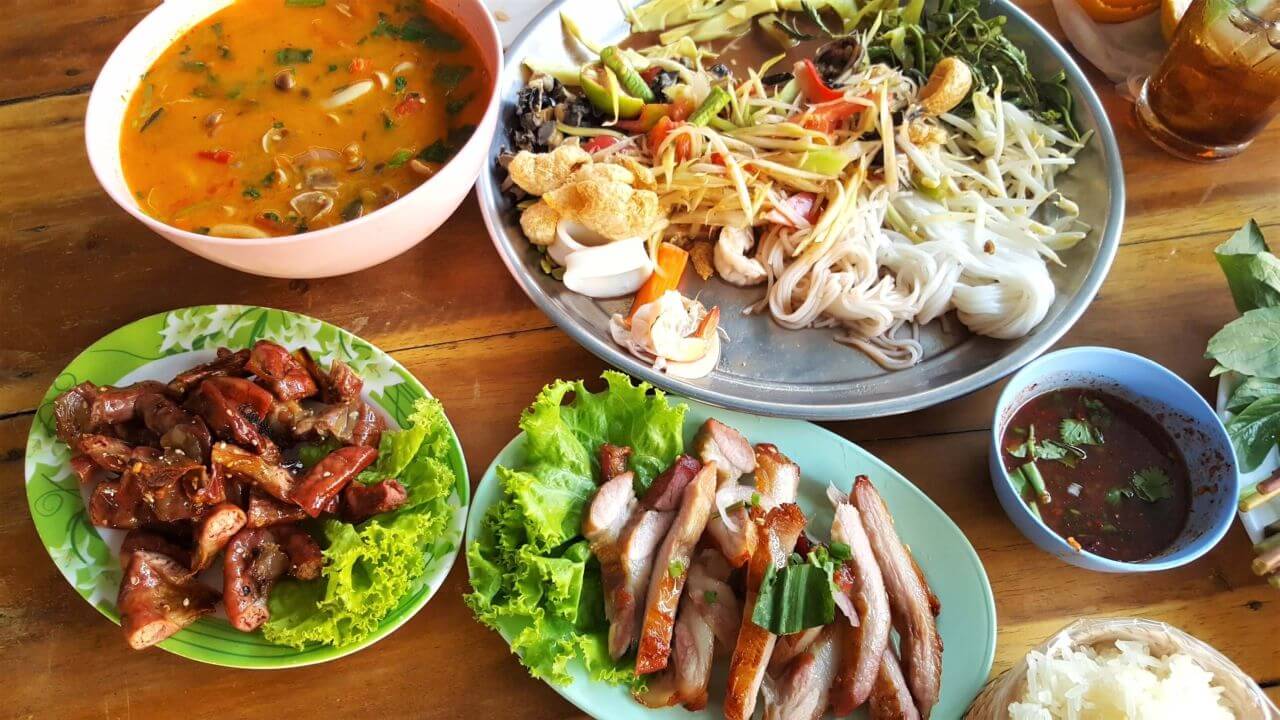 It is interesting to hear the story behind the food you all get to eat, but watching the vendor roll, braid and deep fry the puffs before your eyes makes the tasty treats even tastier!
One of the tastiest parts of the morning is a stop in a curry paste shop where you can see mounds of yellow, red, green and Penang curry paste. Some would say the smell is "authentic" at best and heavenly!
Though not necessarily for the faint-hearted, with meat and fish on display at Bang Rak local wet market in all its full glory, the produce is as fresh as you will find in Bangkok and highly inexpensive. The fruit stands just outside provided the perfect classroom for some Thai fruit education, with mangosteen not standing a chance.
The buildings themselves are unique, such old quaint wooden houses that seem at odds with the towering skyscrapers that one is used to associating Bangkok with.
It is interesting to hear throughout the day about the quickly changing landscape of Bangkok and the sensitive balance between progress and preservation. It is time to stop again, and you will find yourself at an old Chinese shop house grocer.
Many people believe that Chinese herbal drinks hold excellent medicinal properties, and as such, you will allow trying some based on their inherent health benefits. Honey and black dragon tea are alleged to its slimming characteristics, and you might want to lose some weight in the new year! The energy boost and good skin claims are a bonus. You also can choose the famous bitter drink, Nam Khom! It is also interesting to learn that this shop is the birthplace of the famous Yan Wo Yun seasoning sauces, internationally known as the Healthy Boy brand.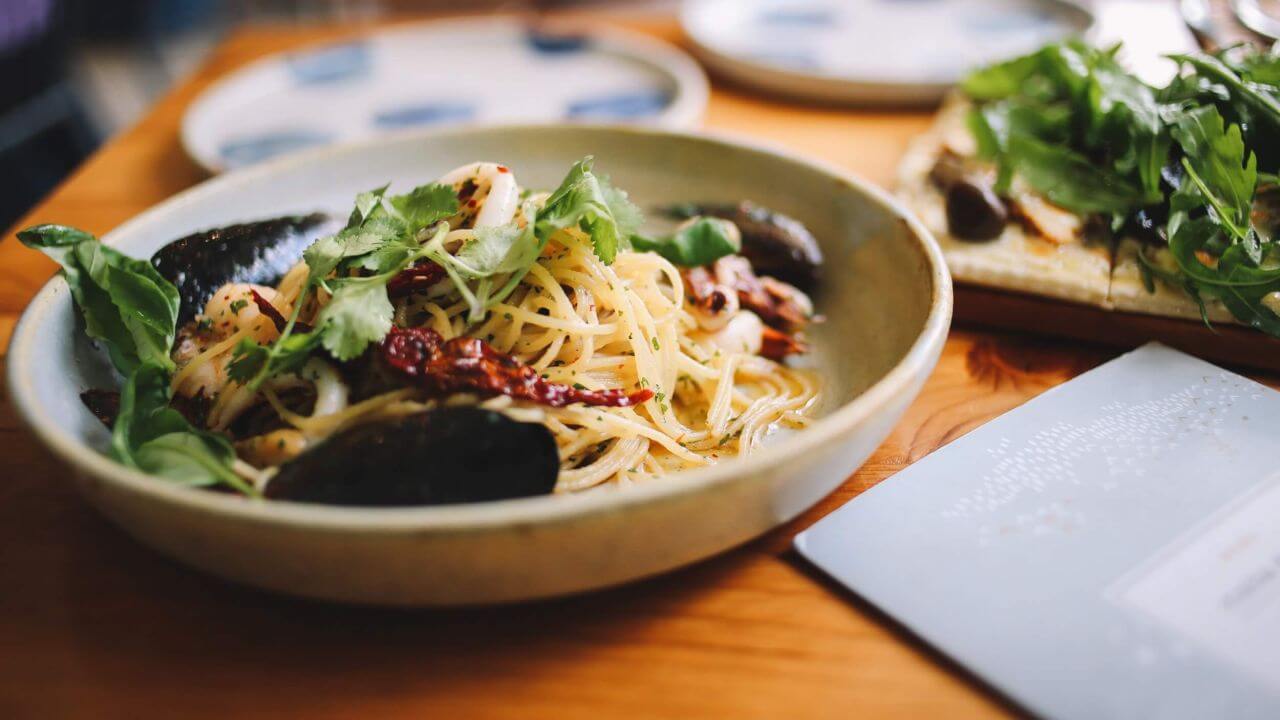 Then it is time to move into one of the food stalls for the Nai Sang roasted duck served with noodles. Duck, mainly found on the street in Thailand, tends to be fatty, but it is well cooked here, and you will learn some valuable secrets while eating the duck.
One of the city's most famous fried banana street vendors is just outside the duck stall, as evidenced by the queue surrounding his stall. In addition to bananas, the vendor sells deep-fried taro and sweet potato.
The next stop is a sweet theme to consumers, the Dessert, where the owner says it is the best traditional Thai dessert shop in this area and has been making sweets according to its founder's original recipes since before World War II. The third-generation owners have renovated the shop, which is now a cosy air-conditioned café. The dessert shop serves and indeed excels in many traditional Thai goodies, but their sweet sticky rice, topped with impossibly smooth and creamy steamed egg custard (sangkhaya), is their best seller.
The penultimate stop that follows is almost unanimously the favourite stop for many, as the food is just tremendous. The house of Papaya Salad is treated with the famous Thai spicy papaya salad, served in two sorts – traditional and deep fried. The restaurant serves 29 different flavours of Som Tam in total!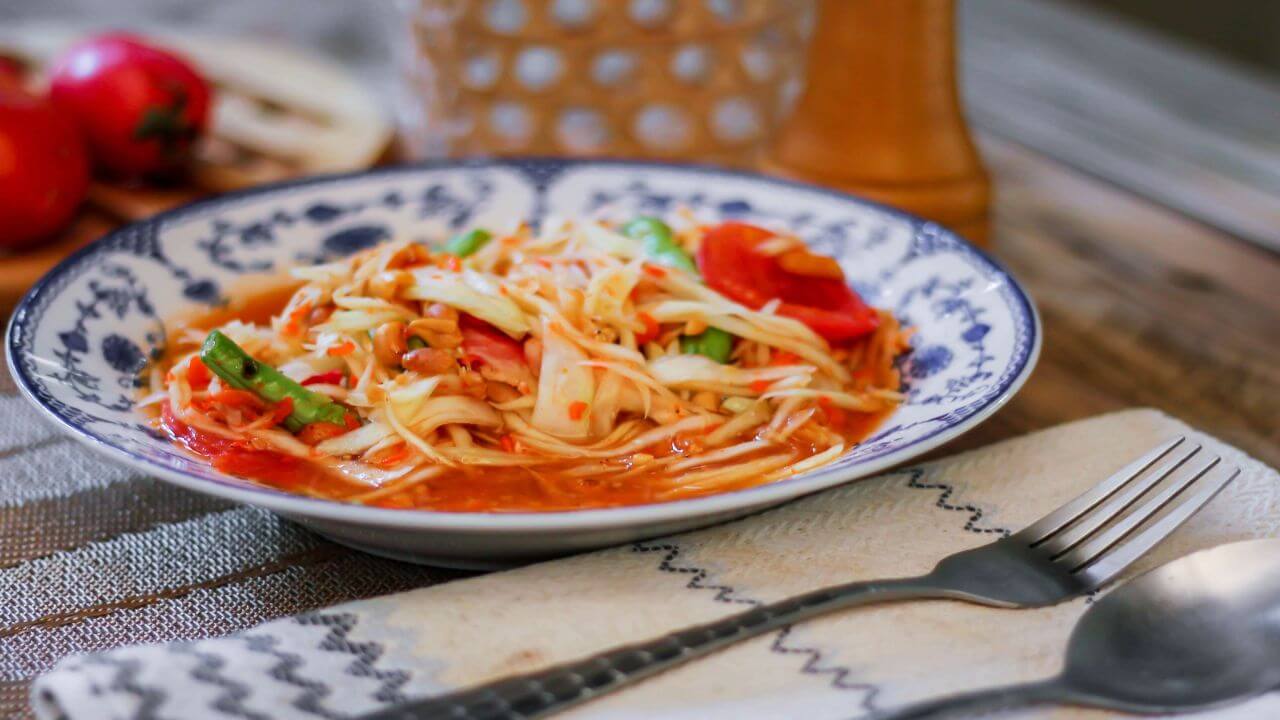 You can accompany the papaya salad with two side dishes of larb – moo and ped (pork and duck) together with dishes of sticky rice to dip into the tasty sauce.
The last stop in the tour is a restaurant named in honour of H.S.H. Princess Sulabh–Valleng Visuddhi, who used to be the head cook in the Sukhothai Palace kitchen for her half-sister, Queen Rambhai Barni of King Rama the Seventh. Enjoy three small dishes: a traditional Thai appetiser with the prettiest served green curry, finished with the lightest yet creamiest ginger sorbet.
Named "Bites and Sites in the Village of Love," this tour combines walking and sightseeing between food stops to provide cultural context and allow for digestion and our appetites to re-emerge.
Good food isn't what makes this food tour great. It is the solid friendships with our fellow neighbours and the stories only the lifelong locals know. Taste of Thailand aims to transmit these stories with each bite and site and provide an intimate window into Thai life that can support the community's progress while preserving local traditions along its tour.
Although Taste of Thailand runs different tours weekly, including the Village of Love and Tuk Tuk Odessey Tours, the company also runs other successful and award-winning food tours in cities outside of Bangkok. Taste of Thailand My City Culinary Events Series returns in 2023, and tickets will go on sale soon.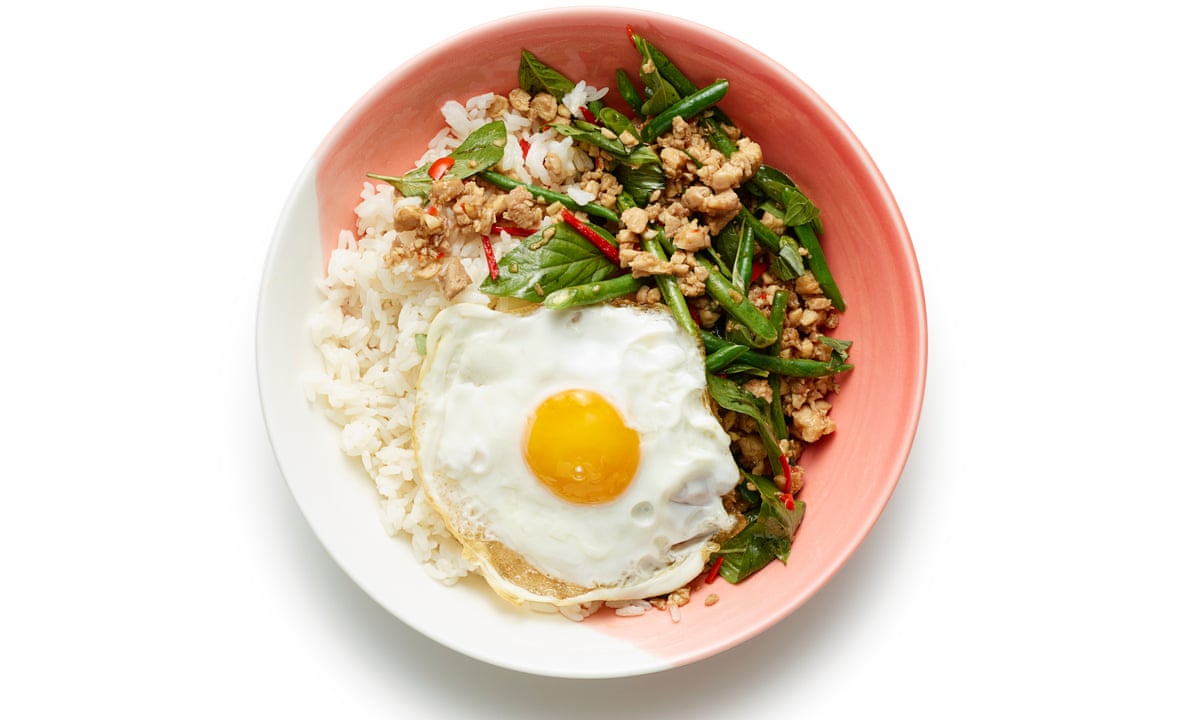 Taste of Thailand offers readers an exclusive 15% discount off the usual price of 1.550 Baht to enjoy the food tours. Log onto the website www.tasteofthailandfoodtours.org and enter the promo code "TOT15VOL" after booking this high-in-demand tour is back for booking.
Private tours are also available upon request. Email info[at]tasteofthailandfoodtours [dot]org for more details. Make sure you like the Facebook page facebook.com/tasteofthailandfoodtours and follow us on Twitter @twitter.com/TasteofThailand, and Instagram accounts @TasteofThailand for daily photos of delicious-looking food.